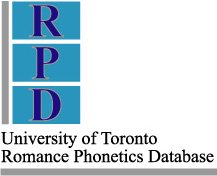 The Romance Phonetics Database (RPD) is an on-line research and teaching tool containing tagged sound samples (both individual words and passages) illustrative of various segmental and prosodic aspects of Romance phonetics and phonology.

To begin querying the database, click on one of the links below.
If you are a first time user, you may wish first to read about the corpora or the basics of undertaking queries.



---
Romance Phonetics Database; Copyright © 2004-2012 University of Toronto
CHASS